The Virtual Brain Health Center is a company that is changing the way brain health services
are offered to adults, families, carers, communities, and providers.
Your brain is fascinating. Let's keep it that way.
Welcome to the Virtual Brain Health Center! It's our sole mission to provide practical solutions introduced into your daily routine, enabling you to take control of your brain wellness today for a healthier tomorrow.  
Not many people truly understand the importance of stimulating our brains. Our lifestyle has profound effects on our overall health. We know more than ever before how simple, daily changes can equate to long-term changes in our brain's optimal health. Our friendly and supportive team at the Virtual Brain Health Center explores your lifestyle, creating dynamic ways you can protect your brain's health and wellness with ease.   
We've enabled our practices to access unlimited resources, for individuals and groups, by developing outstanding collaborations and partnerships to support the populations we serve. Our driving force is to provide accessible, low-cost programs for all our clients to ensure everyone has the right tools for protecting their brains.   
Our virtual organization model allows us to connect with students regardless of their location, providing flexible support. We're redefining modern education and care by removing barriers to help you get the most out of your wellness routine. We're taking no shortcuts. Just because you don't experience face-to-face interactions, it's our policy to never lower our level of support.   
At the Virtual Brain Health Center, our nurturing team, supplied with decades of experience, introduces you to the latest brain-based research, technology, and alternatives to optimize your brain wellness. It's simple. We analyze the cutting-edge facts to educate you on risk-reduction lifestyle adaptations that sustain your health and wellbeing.   
Passion in Our Services & Work
Sharing our purpose and values with you.
Providing purpose for brain health optimization.
Providing practical solutions to augment brain wellness through online services.
We rely on the latest, innovative scientific research to guide and facilitate our services at the Virtual Brain Health Center. Through our unique, tight-knit partnerships, and flexible mindsets, we're able to adapt to the diverse interests and needs of our consumers through the adoption, use, and ongoing learning of cutting-edge technology.   
We foster a supportive, collaborative environment. Our services rely entirely on nurturing and caring for each individual who enters our virtual center. We aim to provide a warm environment for all.    
We strive to remain truly authentic throughout all our services, with trustworthy information and guidance available to all our students, caregivers, families, providers, and partners. At the Virtual Brain Health Center, we maintain a transparent, trusting relationship for all.  
Our Model of Brain Wellness
Our model of brain wellness guides our service development and program offerings.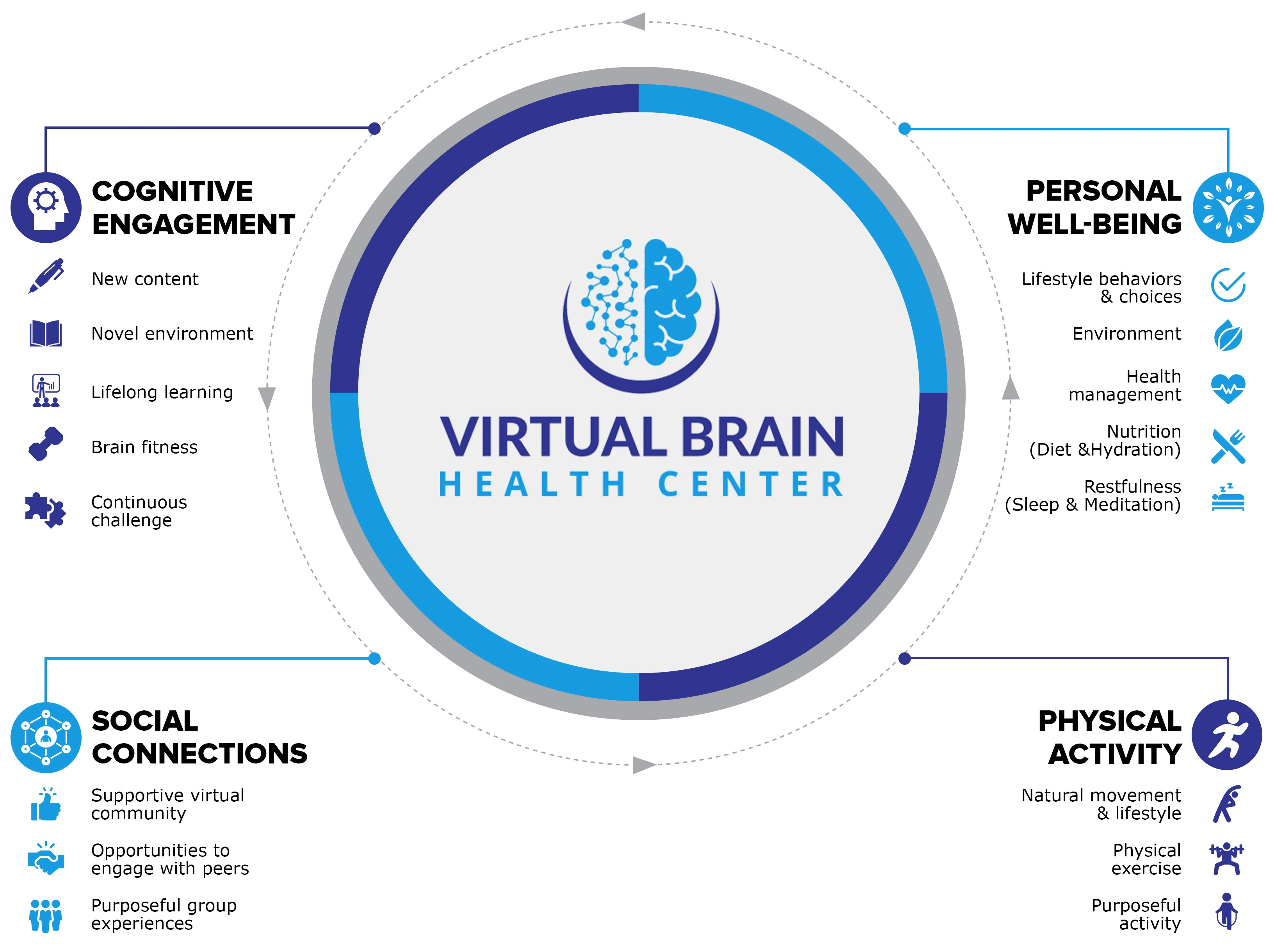 It's great to meet you virtually! Before we meet you personally, we thought it would be great to introduce ourselves. After all, we want to provide the ultimate, welcoming service to all our customers.  
At the Virtual Brain Health Center, we have over four decades of experience in aging and wellness. Backed by international and national award-winning programs in brain health and lifelong learning, we are excited to partner together for this venture. We're proud to support our students by providing skills in our respective fields of study, ranging from the behavioral sciences to education with a focus on aging well. We're ready for any challenge which comes our way! 
Dr. Krystal L. Culler, DBH, M.A.
Founder & Creative Director
Introducing Krystal, Creative Director and Founder of the Virtual Brain Health Center. Under her leadership, her previous organizations gained four awards to recognize innovation within the aging care industry. Honorable mentions for these awards include the International Council on Active Aging, Mather Lifeways Institute on Aging, the American Society on Aging, and the Southern Gerontological Society on Aging.
At the beginning of her career pathway, Dr. Culler, spent just shy of five years in Executive-level positions working for health non-profit organizations. She has over 15 years of experience working with individuals with brain health concerns, their families, and advocacy organizations. Under her leadership, the centers have received four international and national awards from leading organizations in the aging care sector for innovation in brain health programming and community impact. Additionally, she has been recognized through the receipt of five personal leadership awards for her contributions to the field including the Global Brain Health Leaders Award from the Alzheimer's Association, Alzheimer's Society, and Global Brain Health Institute, and Crain's Cleveland Business 40 Under Forty.
Outside of her Virtual Brain Health Center achievements, as a true team player she has been featured in 30+ mainstream media outlets throughout her career, including household names USA Today, New York Times, AARP, Reader's Digest, and more. Additionally, her successful career has led her to become an invited guest on multiple podcasts and involved in brain health and migraine advocacy work. She serves as a review editor for Frontiers of Psychology of Aging and is a blog contributor for Northeast Ohio Boomer and Beyond Magazine. Follow her "EngAGE Your Brain!" series.
  Mind: Krystal is a Doctor of Behavioral Health with a background in the behavioral sciences (psychology of aging, gerontology, and sociology). She is a Senior Atlantic Fellow with the Global Brain Health Institute, where she was the first scholar from the United States to complete her residency training at Trinity College Dublin, Ireland on dementia prevention and the social determinants of brain health. She has an unwavering commitment to promoting brain health equity to individuals of all ages and the communities she serves.

 Body: Krystal is currently prioritizing the restfulness aspects of her brain wellness. For years she has worked to manage her own neurological health issues which impact her sleep. She is also exploring different types of meditation and striving to make this a daily practice. (Drumming is currently her favorite but she prefers this experience with a group!)
 Heart: Krystal can typically be found curled up reading a good book (likely related to the brain) with her weighted dog blankets (2 labs and a senior Maltese) and her fat cat. Her adorable, fun, witty nieces and nephews make her heart smile along with her handsome husband Jake.
LeAnne Stuver, M.Ed., BSN
Director of Lifelong Learning
Another warm welcome from LeAnne Stuver, our Director of Lifelong Learning here at the Virtual Brain Health Center. The organization benefits from LeAnne's two-plus decades of service as Director of a Comprehensive Lifelong Learning Program on a Senior Living Campus. If that wasn't enough of an achievement, she's a registered nurse with ten years of hospital experience.  
She has taught a vast wealth of educational programs during her career, for both adults and professional audiences. Putting her knowledge into practice, LeAnne released a publication through the American Society on Aging which highlights creating educational opportunities for older adults in a senior living setting.   
An asset to the Virtual Brain Health Center, she brings her educational background and innovative practices to all our students, enabling them to successfully achieve their personal brain wellness goals.   
 Mind: LeAnne has a master's degree in education with a focus on health education. She is also a trained facilitator for the evidence-based Savvy Caregiver Program. She has first-hand caregiver experience with her live-in aging parents, helping them to maintain their quality of life despite complex health care needs. She is passionate about educating the community in practical ways that they can learn to support their brain health and wellness.  

 Body: LeAnne walks three miles every morning with a friend. She is also trying to develop a consistent yoga and meditation practice – but this is a work in progress!  
 Heart: LeAnne loves to read (several different genres) and binge-watch television series online (medical, law, or family dramas). She and her husband Ron are avid soccer fans, having followed their two adult sons through all levels of youth, high school, and college soccer. Her older son is a local high school assistant soccer coach, and her younger son is a professional soccer player – so, the journey continues.  
 
In Collaboration With & Featured On
Dr. Krystal Culler & Virtual Brain Health Center